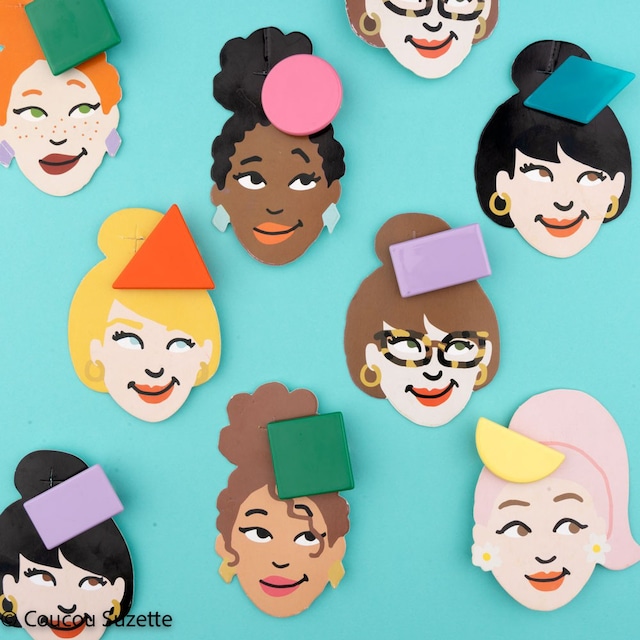 [Coucou Suzette]Half Round Hair Clip
SOLD OUT
Japan domestic shipping fees for purchases over ¥10,000 will be free.
Shipping fee is not included. More information.
2013年スタートの
フランスパリ発[Coucou Suzette]のヘアクリップ
・・・・・・・・・・・・・・・・・・・・

Half Round Hair Clip

ライトイエローの半月型が愛らしいヘアクリップです
ピンクの丸いヘアクリップやターコイズブルーのダイヤのヘアクリップなど
ヴィンテージな雰囲気のアクセサリーと相性抜群です
レトロでカラフルなヘアスタイルにぴったりのコンフェッティです

高さ 3.7cm 幅 1.9cm 重量2.8g
素材 再生生分解性セルロースアセテート
(エコフレンドリー)

・・・・・・・・・・・・・・・・・・・・

ABOUT Coucou Suzette?

カラフルで、セクシーで、
面白くて、ユニークで、楽しいキッチュな作品 !
ジュリエット(ブランドの創設者)は
友人の為に小さなおっぱい型のセラミックリングを作り
面白半分にインスタグラムに投稿しました。
すると、どこで買えますか?という問い合わせが殺到!
オンラインショップで販売することになりました。

こうして、小さなおっぱいから
すべてが始まったのです!

2013年に誕生したCoucou Suzetteは、
オリジナルで親しみやすい作品、
高品質なアクセサリーの手に取りやすい価格、
履き心地のよいコットンソックス、
一瞬でコーデを明るくしてくれる輝くピンなどで
すぐに注目を集めるようになったのです。

その時々のインスピレーションによって作られ
常に更新される多くの限定版と
ラブピン、おっぱいソックス、アイヘアークローのような
永久コレクションに含まれるベストセラーがあります!

・・・・・・・・・・・・・・・・・・・・

An adorable hair clip shaped as a light yellow half-moon. This accessory with a vintage vibe goes perfectly with a round pink hair clip or a turquoise diamond one for example. Pretty confettis to add to our hairstyles for retro and colorful looks.

Product Details
Height 3.7cm Width 1.9cm Weight 2.8g
Compositions
Recycled & Biodegradable Cellulose Acetate (Eco-Friendly)

・・・・・・・・・・・・・・・・・・・・

ABOUT Coucou Suzette?

Colorful, sexy, funny, unique and delightfully kitsch creations !
Juliette (the founder of the brand) created a little ceramic boob shaped ring for a friend and posted it on Instagram, just for fun.
People instantly asked her where they could buy it! So she started selling the ring on her online store, a bit surprised but very enthousiastic.


That's really how everything started: thanks to a little boob!

Created in 2013, Coucou Suzette quickly stood out with its original and accessible creations, soft prices for quality accessories, comfortable cotton socks, shining pins that'll brighten up your outfit in the blink of an eye.


Many limited editions, which are constantly renewed, according to the inspiration of the moment, as well as some best sellers that are part of a permanent collection such as the Love Pin, the Boobs Socks, or the Eye Hair Claw.

Add to Like via app
Reviews

(33)

Shipping method / fee

Payment method
¥1,800 tax included
SOLD OUT